December 09, 2005
One down....
several more to go.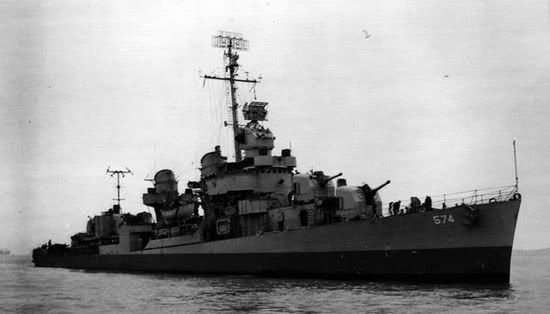 Earlier this week Ward Brewer of Beauchamp Tower Corporation and The Mexican Navy signed the official Document of Transfer Agreement for the transfer of the USS John Rodgers(aka E-01 CUITLAHUAC).
As Ward stated "It should be noted that this is the first time in history that the Mexican Government has donated a ship to a United States organization for a museum and the Mexican Navy takes this donation very seriously--as do we."
And so Ward's transcendence to the top of the Gun Blogging world begins. Sure there are folks with "Commie Cannons" and other large guns, but does anybody have a destoyer? I think not.
---
With USS John Rodgers is secure, it's time to hammer MARAD for trying to scrap the USS Howard Gilmore before it can be utilized to aid in hurricane relief. YOU can stop them with a call to your Senators and Congress people.
USS Orion (AS-18) left. USS Howard W. Gilmore (AS-16) in dazzle paint on Navy Day Celebration, Hudson River, October 27, 1945.
Our first post about Operation Enduring Service was almost a month ago and the calls you've made have helped. Things are progressing. However someone is standing in the way:
...yesterday I received an overnight letter informing me that we had until January 6, 2006 to tow the USS Howard W. Gilmore out of the fleet or they were going to scrap her. That is two months ahead of our donation hold schedule and only gives us two weeks to move her due to the Christmas holidays. MARAD knows that this is impossible and only offers this time because they know it can't be done--you can't get a tow company that fast during the holidays. This way, they can look like they are "trying to work with us" and still make sure we can't perform.
Individuals at the Maritime Administration (MARAD) are intentionally speeding up the process of trying to scrap a ship earmarked to be donated to a disaster recovery mission that has the stated goal of saving American lives.
Call your Senators and Congress people today.
Be sure to tell your elected representatives. that the men responsible for this travesty at MARAD are William H. Kahill, Deputy Director, Office of Ship Operations (202-366-1875 ext. 2122), and Eugene Magee, Division of Reserve Fleet Chief (202-366-5752 ext. 2112).
Posted by phin at December 9, 2005 10:43 AM |
TrackBack