May 26, 2007
who i are and what this blog needs
I'm still not quite sure why CY volunteered to let me guest blog, unless he's looking for ace type posting, without teh funny, snide remarks and esoteric wit. Which if you're familiar with ace's site leaves us with poking fun at Andy "Patron Saint of the Man Pooter" Sullivan, a mutual hatred of Ice-Wops and pr0n.
If you're unfamiliar with my work, which you almost assuredly are, most recently I've been posting at agent bedhead, who was nice enough to take me in when I got too lazy busy to post at my own site. I'm also as CY mentioned part of the team at apothegm designs and responsible for the design of this site, which to those ever cleaver and uniquely refreshing liberal commenters means I'm a bigot hoping to enslave brown people so they'll pick my vast nonexistent fields of cotton and call me masta.
Anyhoo, enough about me and on with what this blog needs.
Since I've already numbed your minds enough and posted a link to an Snow Porker getting his, I'll bring on teh pr0n.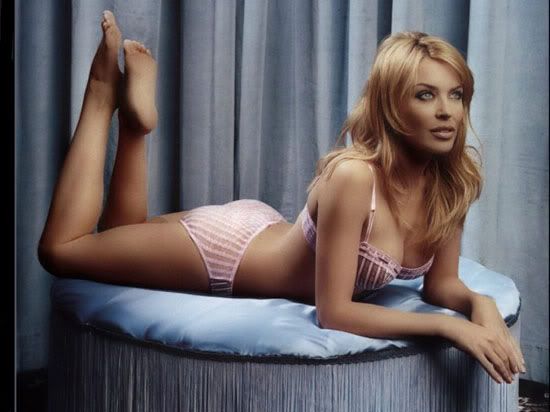 How's this news? Well the Australian lass pictured above, Kylie Minogue, is according to the bosh desperate for a man. She was engaged to a French(man?), so more than likely she's still as pure as the driven snow. Me, I'd take care of her, but I'm happily married, so I figured I'd let you guys have the first, um, crack at her. Consider yourselves warned, she's a naughty little minx, so you'd best be, "up" to the challenge, so to speak.
More of what this blog needs, food pr0n, is on the way, with pictures, just as soon as I get the ham, ribs and sausage off the smoker.
Since absolutely none of this interests 99.92735% if CY's normal readers I'll have analysis of what blind hogs, sadly no and the democratic underground have in common and how they've changed my life for the better. But first, pork.
Posted by phin at May 26, 2007 02:22 PM